Nyborggaard is located in the flat West Jutland landscape in Skibbild-Nøvling near Vildbjerg, Herning.
Nyborggaard is a unique niche farm, founded by Korna and Johannes Jensen, who bought Nyborggaard in 1974.

Originally, Korna and Johannes ran a traditional farm with both cows and pigs, as well as with the later production of free-range slaughter pigs.
Since not much chemistry was previously used on the farm, it was not a difficult decision to convert to organic farming, which happened in 1999.

Oil production started at Nyborggaard in the 1990s, when Korna and Johannes bought an oil press in Sweden and began pressing rapeseed oil for the animals on the farm, as well as for a tractor that Johannes had converted to be able to run on rapeseed oil. Inspired by Flemming Leth and his do-it-yourself programs in the 1990s, Johannes also started pressing linseed for linseed oil.

It was defining for Korna and Johannes that in 2002 Korna trained as a Dietitian at the Dietary Academy in Hover.
Here, Korna was inspired by, among other things to convert oil production to human consumption.




In 2003, Nyborggaard was approved to produce food.
The focus was, and still is, on growing high-quality organic crops that could be minimally and gently processed into products of the best standard.

The production of cold-pressed linseed oil began in 2003, and currently cultivated approx. 50 hectares of linseed for the production of linseed oil.



Korna and Johannes' son, Søren, took over Nyborggaard in 2016 together with his wife, Vibeke.
Søren, who is a dairy engineer from KVL, runs Nyborggaard with the same focus on high quality as his parents. In particular, the ideas behind being able to be involved in all processes – all the way from farm to table – are a great source of inspiration and motivation in everyday life.



It is therefore important to be able to follow the raw materials all the way from field to mouth, because it is precisely the process, care and craftsmanship that determine the quality.

Nyborggaard's popular linseed oil is extracted by gentle cold pressing of our home-grown organic linseed.




Linseed oil has a content of 60% omega-3 fatty acids (ALA alpha-linolenic acid) and 14% omega-6 (LA linoleic acid).
Flaxseed oil is one of the best vegetable oils to change the balance between omega-3 and omega-6 - 
where we generally consume a large amount of omega-6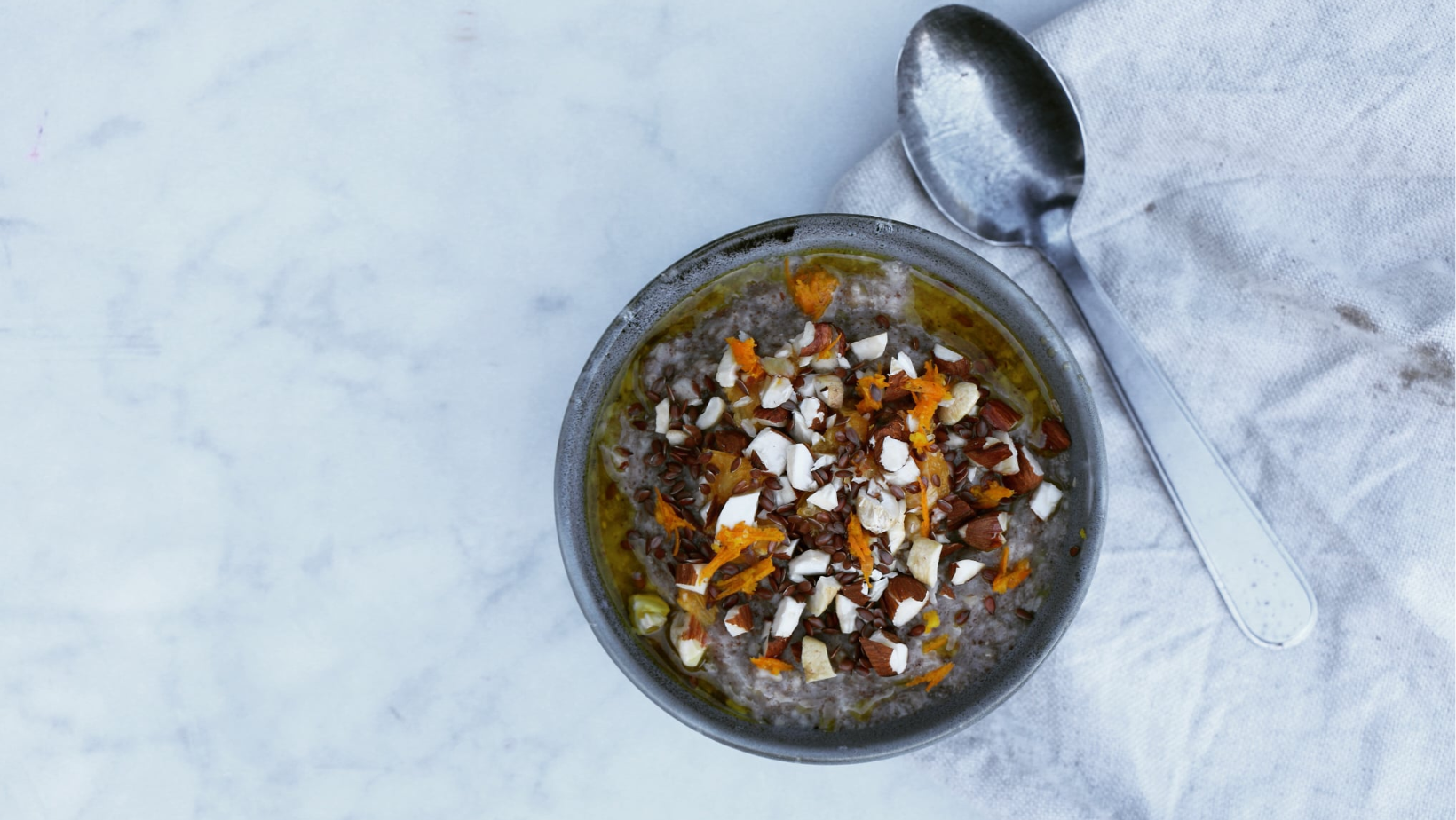 Try a delicious warm protein-rich porridge - Perfect for the cold winter mornings!

Flaxseed protein is rich in healthy dietary fibre, has a high protein content and contains many important minerals.
At the same time, flaxseed protein stabilizes blood sugar and keeps you full for a long time!

Here is the recipe for Nyborggaard's fiber porridge with apple:

1 dl oatmeal
1 small grated apple
2.5-3 dl water
1 tablespoon Nyborggaard flaxseed protein
A little salt and possibly a little cinnamon

Boil oatmeal, apple and water for a few minutes. Then add salt, cinnamon and flaxseed protein.

Top your fiber porridge with your favorite toppings, e.g. chopped nuts, dried or fresh fruit
and OF COURSE 1 tablespoon of Nyborggaard's fantastic linseed oil - that way you also get an extra boost of omega-3!