SPLAT® produces organic toothpaste, mouthwash, dental floss and other oral hygiene products. They are of high quality and manufactured under the highest hygienic and controlled conditions.
None of their products contain synthetic antiseptic agents such as triclosan or chlorhexidine, and foaming agent is minimal. All SPALT® new products are free of sodium lauryl sulfate and saccharinate.
Natural ingredients, essential oils and plant extracts included in the formulations of all SPLAT® toothpastes, foam, and mouthwashes.
SPLAT® make sure that brushing your teeth will not be boring. Their toothpastes contain among diamond extract that tastes like rosé champagne, fiery chili paste, which stimulates blood flow to the gums and special toothpaste for campers who fights bad breath. The manufacturer is trying to do our desire to brush your teeth more fun and exciting.

We are the wholesale distributors for SPALT® in Denmark, Finland & Sweden and looking for resellers, you can contact us info@beauty-supply.dk or call us +45 91835577 or +45 50210911 for more informations about SPLAT® We ship to all dentist, dental shop, supermarked, shops & webshops in with in Denmark, Finland & Sweden.
You can read more about SPLAT® below on this page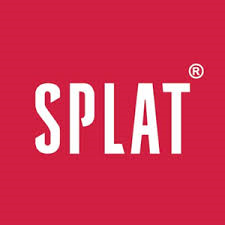 Their products are produced in ecologically clean region Valdai in SPLAT® ultra-modern eco-factory and with organic pharmaceutical products, as well as in modern factories with their European and Japanese cooperation partner.
The products are produced in small quantities at a time.
SPLAT® is aware of man's responsibility to nature and do everything possible to minimize the environmental footprint. Their products contain natural plant oils and extracts together with modern technology is beneficial to your oral health and the environment. The production is CO2 neutral status and has been certified to comply with international standards of GMP Cosmetics and ISO 9001. Their production is fully environmentally friendly and certified by Prima Klima seal as CO2 neutral. http://www.prima-klima-weltweit.de/englisch_2010/
SPLAT® do not test their products on animals.
SPLAT® products are made from the best ingredients from the world's leading manufacturers