Beauty Made Easy – Le Papier
We are supplier and distributor for Beauty Made Easy - Le Papier
Read more at the bottom of the page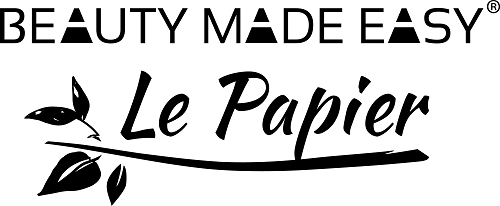 If you could change your lipstick and lip balm in plastic packaging out to non-plastic, zero waste - would you make the choice !?
You can now do this with lipsticks wrapped in environmentally friendly sustainable paper.
Beauty Made Easy - Le Papier has decided to be a 100% plastic-free cosmetics company by 2023. They only use biodegradable raw materials and recyclable materials and work purposefully after zero waste.
The strategy is clear and Le Papier is the first product from Beauty Made Easy in that direction.
Their lipsticks and lip balm are made with vegetable ingredients that are both nourishing and moisturizing.
Beauty Made Easy - Le Papier packaging is designed so that when you have finished using your lipstick, you have also used up the packaging. The remaining small surplus is biodegradable and can be disposed of as ordinary waste.
They use paper packaging for their lipsticks and lip balms, which come from Scandinavian forests which are managed in a sustainable way.
The paper is biodegradable and recyclable. Paper can degrade in any environment.
Where possible, no additional packaging is used for the products.
In addition, they use materials with the lowest possible environmental impact, as these can all be recycled.
Beauty Made Easy - Smooth paper is unique. Made for you who want to contribute to a more sustainable world!
Founder of Beauty Made Easy - Le Papier Terje Munck lives in Denmark with his German business partner Marco Hülsbeck, two creative people with an environmentally conscious mind and ecological expertise have worked with the brand since 2017.
Together, they have developed and designed the first Beauty Made Easy products based on natural ingredients. Terje is passionate about environmental protection and sustainability. Her interest began as early as her teenage years.
Beauty Made Easy - Le Papier a young company, with a proud history and great ambitions.
The brand is already exported to several countries in Europe.
They are always aware of sustainability and environmental protection.
Le Papier matte lipsticks were Award Finalists for:
Pure Beauty Global Awards 2020 - Highly Commende

Le Papir is the first paper lipstick.
Only NON-GMO ingredients are used in their products.
Beauty for a pure planet!
It's very simple - as the lipstick is used, the paper is pulled off.