ORGAID sheet mask are USDA Certified Organic ingredients, they do not contain chemical preservatives, the are made in US with premium quality and they use Ecoderma' fabric with advanced tech.
ORGAID developed the organic sheet masks with a scientific formula composed of safe ingredients with no chemical preservatives.
As the only manufacturer and direct seller of sheet masks in USA, we provide the most qualified products with a unique formulation from USDA Certified Organic ingredients developed by Dr. Baek.
ORGAID started in Illinois, with a vision to provide the best sheet mask with organic ingredients.
ORGAID decided that our products would have a much more efficient cosmetic effect of ingredients than conventional products.
ORGAID founder, Dr. Baek, PhD majored in biomaterials and has researched how to effectively deliver the therapeutic effects into the human body using diverse biomaterial systems.
Based on his knowledge and experienced background, he came up with the idea of effectively delivering the cosmetic effects of organic ingredients onto facial skin.
ORGAID is constantly in search of wonderful organic ingredients and involved in scientific research of how to use the advantages of ingredients to enhance skin beauty naturally.
You can read more about ORGAID sheet mask below on this page.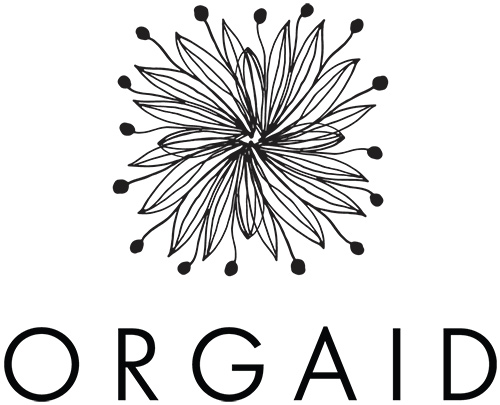 ORGAID proudly uses Ecoderma, which is patented from our partner company and we can't wait to share this amazing sheet with you all!
After all, even though the serum may be of great quality, the sheet also needs to be of similar quality in order for the serum to be effectively delivered into the deeper part of your skin.
ECODERMA
The newest generation of fabric for sheet masks developed with advanced technology

A combination of positive attributes from non-woven fabric and natural hydrogel

Breathable

Adheres to the face very well, thus making it easy to move around

Absorbs serum deeper into skin

Safe and comfortable on skin

Expensive
HOW DOES SHEET MASK WORK?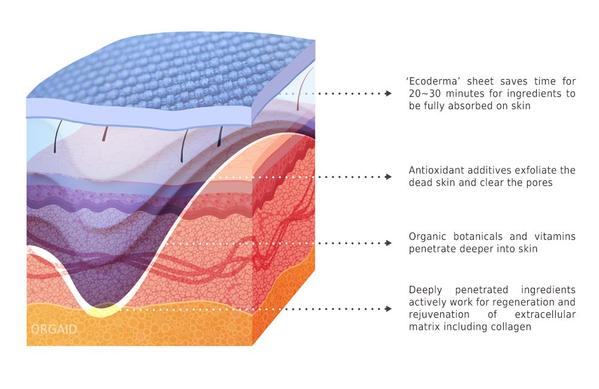 This schematic image explains how sheet masks work for skin. The key techniques for maximizing the effect is combining the fabric and serum. Our 'Ecoderma' fabric prevents fast evaporation of serum for ingredients to penetrate deeper while keeping breathable and strongly adhering on skin. The physical and chemical properties of serum such as viscosity and average molecular weights of ingredients are important. Our serums have been developed not only with organic ingredients but also optimized with unique recipe for the best effect.

ORGAID compared the effects of sheet mask to just topical application of serum. The experiment resulted that Ecoderma sheet delivers the serum much more effectively deeper into skin. To avoid testing on animals, we used an agar hydrogel (5mm thick), which is of similar structure to skin. Serum was prepared in the same way as Orgaid's Anti-aging and Moisturizing Organic Sheet Mask. After fully mixing the serum with fluorescent dye (1/1000 ratio), one hydrogel was covered with an Ecoderma sheet soaked with the serum (left image) and another hydrogel was topically rubbed with the serum only (right image). After 20 minutes, samples were cut in half, and the cross sections of samples were imaged with a fluorescent microscope. Blue color in this figure indicates the serum penetrated into hydrogel. Ecoderma sample had a much bigger and wider intensity of fluorescence compared to the control. With the result, we can easily tell the difference of serum penetration between two samples. This experiment was performed in University of Illinois.